Toyo Tires at Big Chief Tire
Toyo Tires offers a complete selection of premium replacement tires for nearly every make and model including light trucks, SUVs, high performance cars, and luxury vehicles, as well as commercial trucks. Many of these tires are built here in the United States at our state-of-the-art factory in Bartow County, Georgia.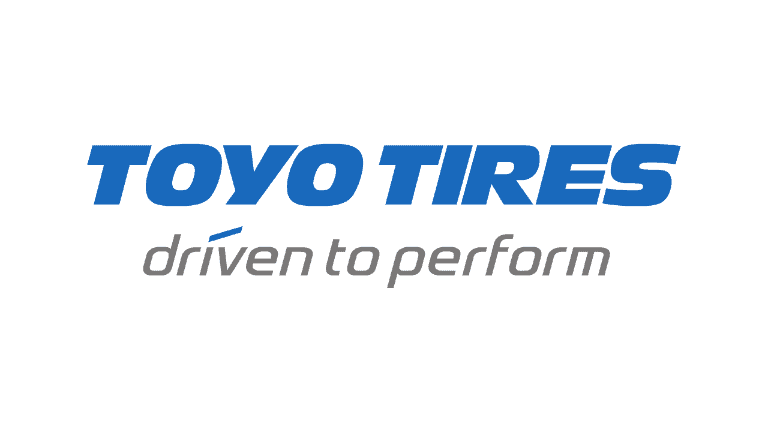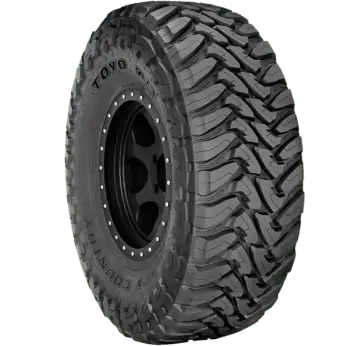 Toyo Open Country MT
Designed to help full-sized pickups work hard on pavement, then work just as hard when roads are muddy, snowy, and rocky—or when there are no roads at all. The Open Country M/T combines solid on-road performance with extra ground clearance, higher load-carrying capacity, and greater ability to go off-road. Truck enthusiasts know it for its long wear, low noise and aggressive tread pattern.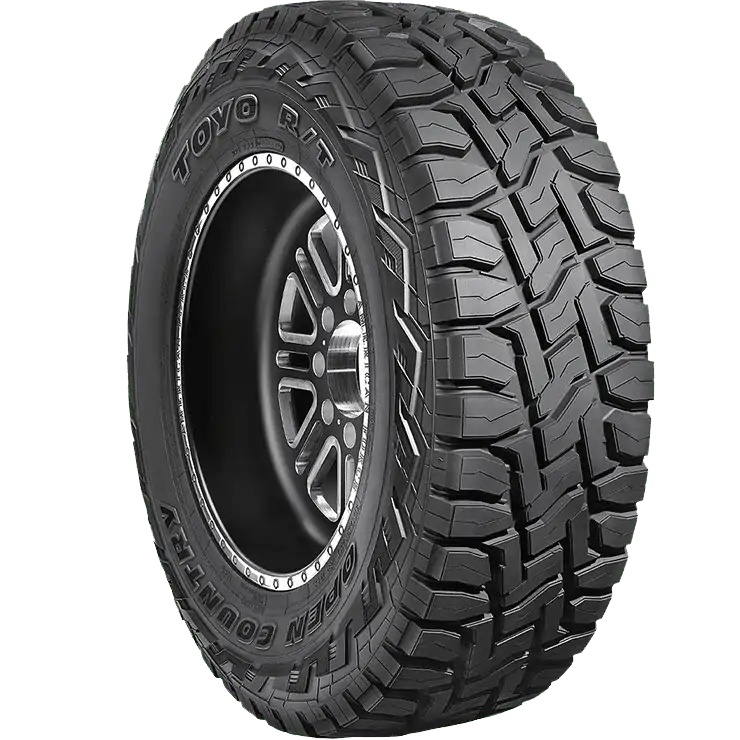 Toyo Open Country RT
Off-road performance meets on-road comfort with the all-new Open Country R/T. Built rugged for any terrain, this tire offers excellent off-road traction, durable construction, and aggressive styling. Its ability to tackle dirt, sand, and rocks is inspired by the legendary Open Country M/T, while its quieter ride is a nod to our best-selling Open Country A/T II. These tires are 100% American-made at the state-of-the-art Toyo Tires factory in Georgia.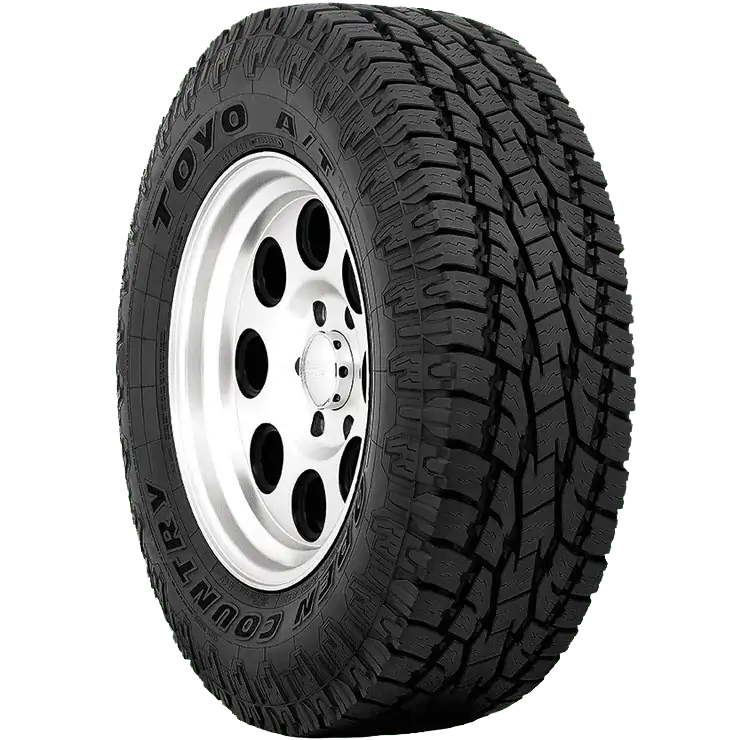 Toyo Open Country AT II
These versatile all-terrain tires offer over 40% more tread life than the leading competitors*, a blatantly aggressive tread design, and a quiet ride. Open Country A/T II tires also come with an industry-leading 65,000-mile treadwear warranty and our No Regrets® 45-day, 500-mile trial offer.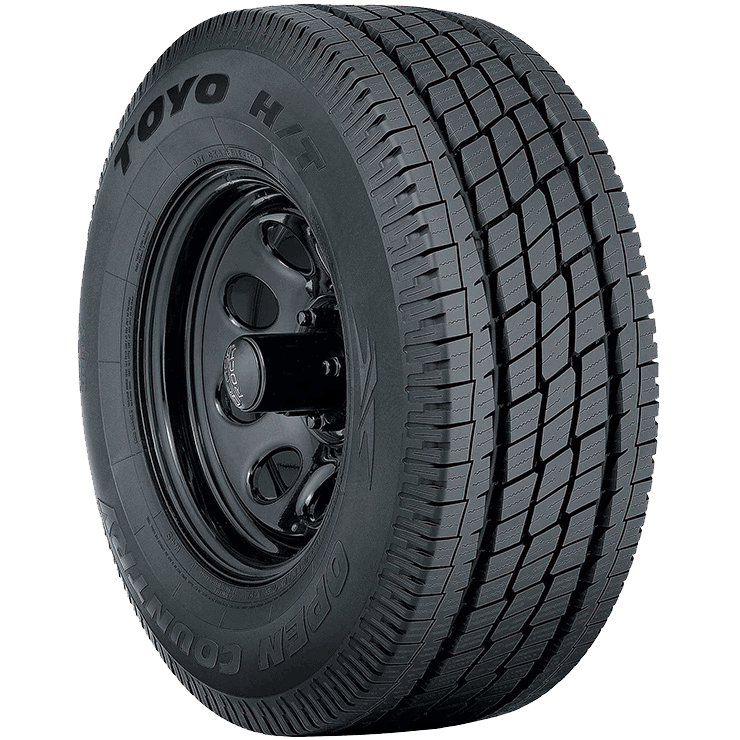 Toyo Open Country H/T with Tuff Duty
Extra-strong three-belt construction, deeper tread depths and less tread void make this tire ideal for high-torque diesel pickups towing trailers and hauling heavy loads.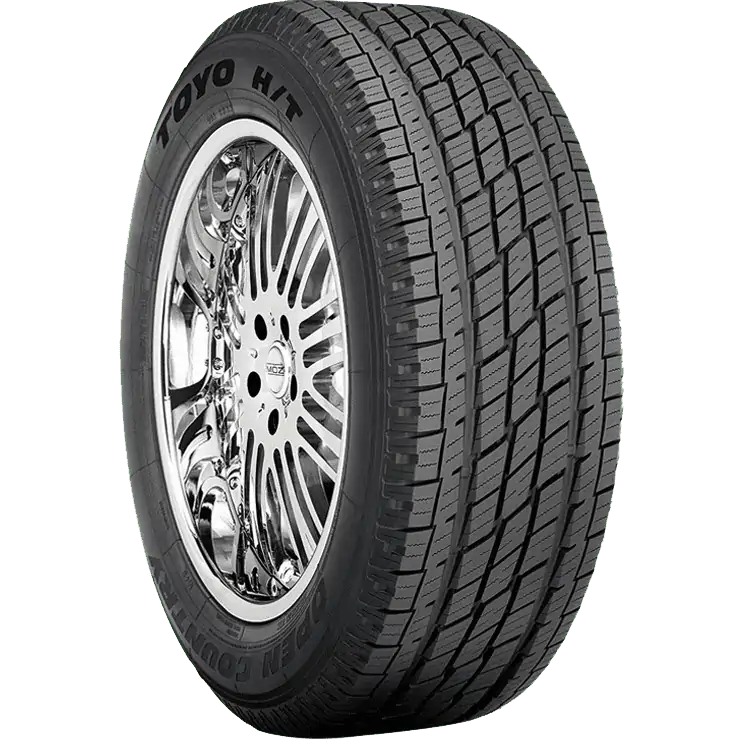 Toyo Open Country HT
This all-season tire balances optimal comfort, quiet performance, and sure handling in city and open-road driving. Designed for light trucks, SUVs, and CUVs, the Open Country H/T is available in a wide range of original equipment sizes.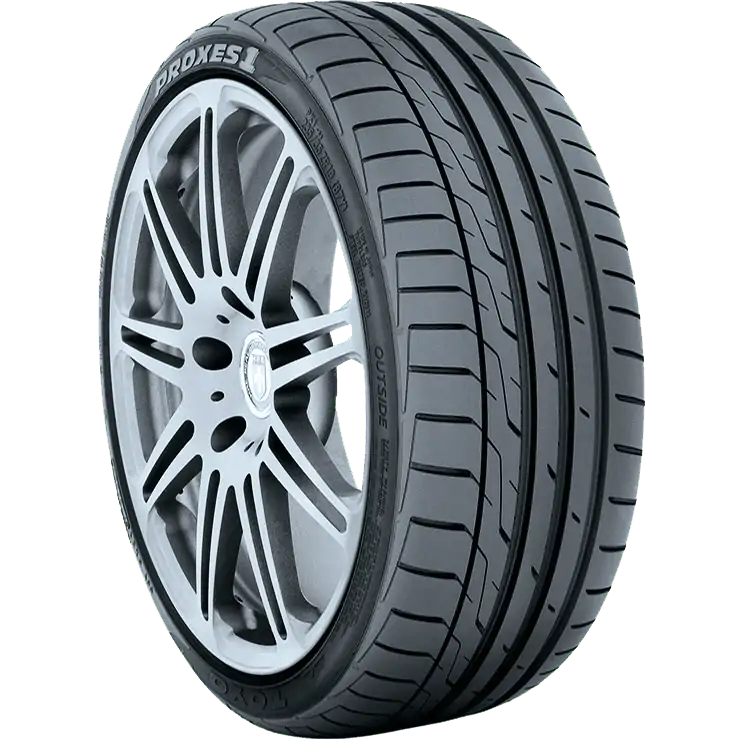 Toyo Proxes 1
Built for many of the most powerful cars in the world, this max performance summer tire is the flagship for our legendary Proxes line of high performance products. The Proxes 1 is also our most technologically advanced tire, developed with a focus on high-speed performance, cornering, and braking.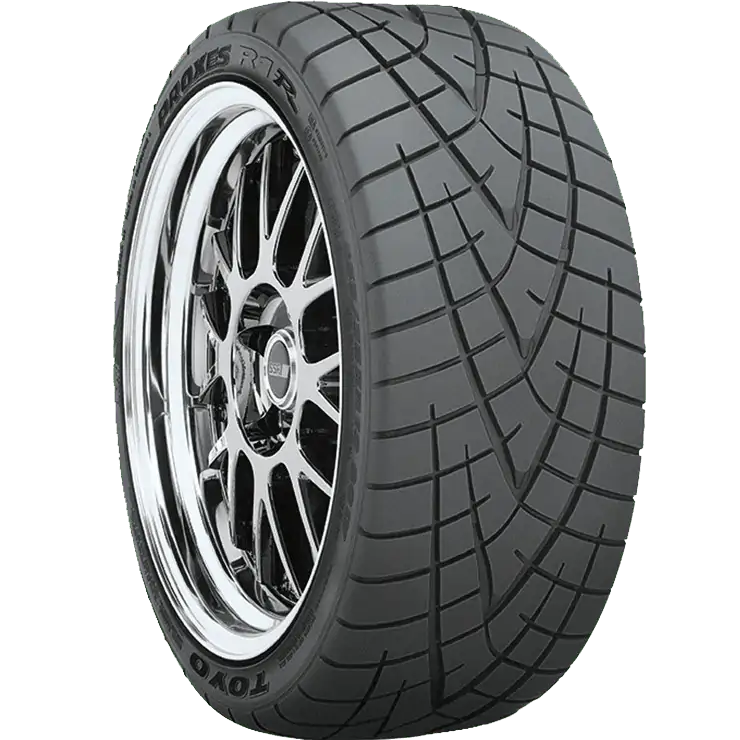 Toyo Proxes R1R
Years of grueling on-track experience and advanced engineering shine through in this extreme performance summer tire. The Proxes R1R helps you drive hard through the corners and quickly accelerate in the straightaways. Features include an aggressive, arrowhead tread design; extra wide footprint; high-grip compound; and autocross-inspired casing design.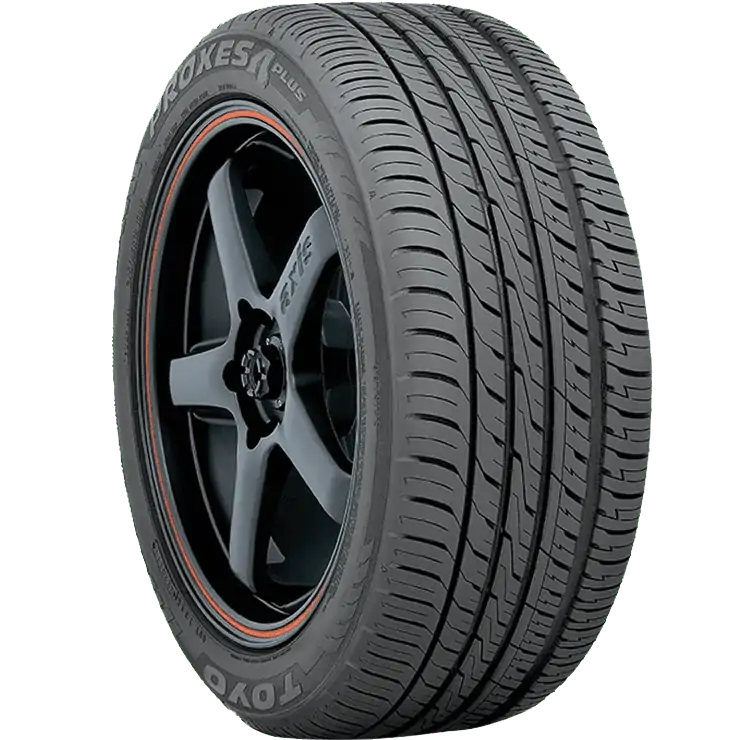 Toyo Proxes 4 Plus
The very best ultra-high performance, all-season tire we've ever made. Experience better snow braking and up to 47% longer tread life than the leading competitor, PLUS a quieter ride over the life of the tire.* From form to function, the Proxes 4 Plus is perfect for high-powered sports cars.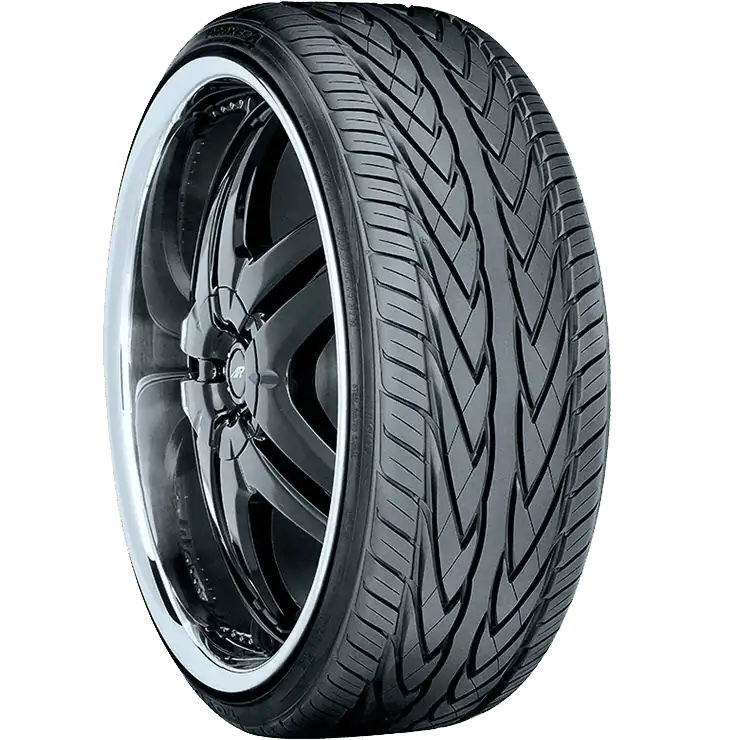 Toyo Proxes 4
Car enthusiasts choose the Proxes 4 for its aggressive styling, all-season performance and wide-range of sizes. This ultra high performance all-season tire will enhance the daily driving experience in your sports coupe or sedan.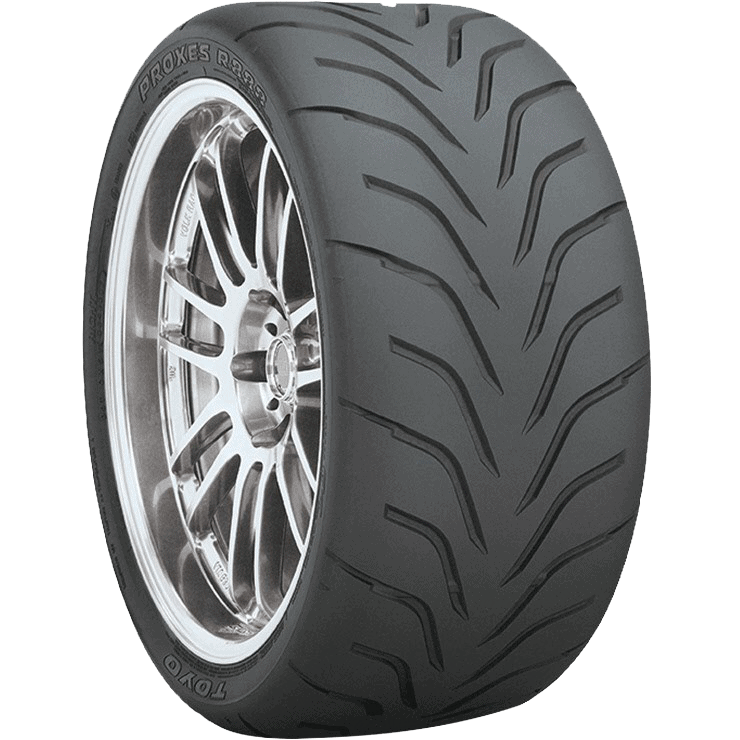 Toyo Proxes R888
We built this next-generation DOT competition tire* for drivers who know what it means to really push a car. We've optimized its casing and tread design to maximize dry performance without losing wet traction, and to keep you fully under control in extreme driving situations. If your idea of fun includes road racing, track days, and high-performance driving schools, then the Proxes R888 is your tire.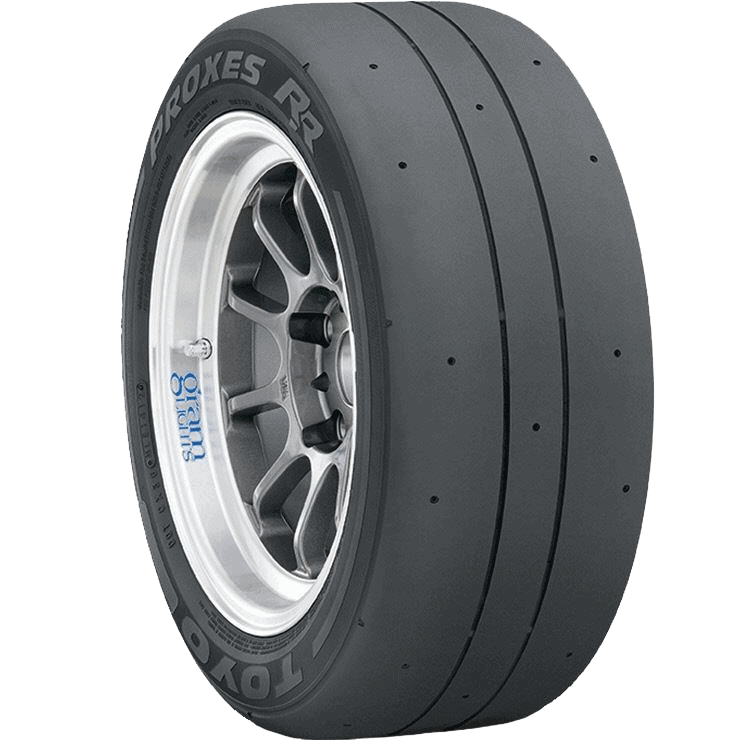 Toyo Proxes RR
Race-ready off the shelf with a 4/32 inch-deep tread, the Proxes RR delivers consistent lap times and predictable handling on dry tracks. This DOT competition tire* is ideal for NASA road racing, track days, and high-performance driving schools. The symmetric two-groove tread design and special tread compound provide a maximum contact patch and ultimate dry traction with superior cornering force.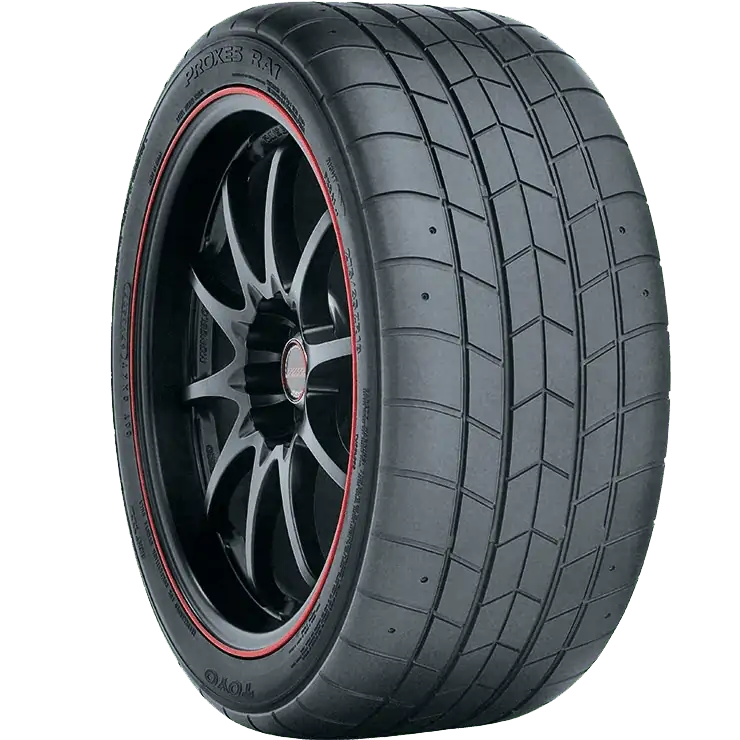 Toyo Proxes RA1
The design and components of the Proxes RA1 came from our experience in winning races all over the world. This DOT competition tire* is well known by road racers for delivering quick lap times, consistency, and long wear. Full 8/32″ tread depth provides good competitive wet traction, while shaving to 4/32″ improves dry traction.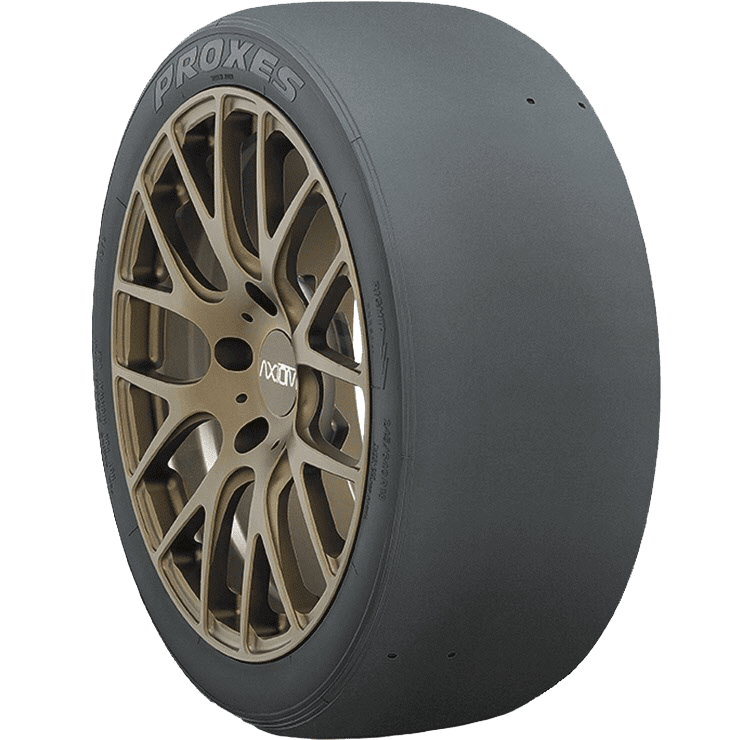 Toyo Proxes RS1
The Proxes RS1 is a full-slick competition tire* that provides consistent performance throughout the life of the tire. This race tire is excellent in dry braking and built to endure closed-course road racing, time attack, track days, and high performance driving schools. Compound, construction and design contribute to its durability, responsive handling, and high-speed performance in dry weather conditions.
Toyo Proxes TQ
This DOT drag radial* was designed to help muscle cars and street machines transfer power to the ground. An optimized tread design, coupled with a unique tread compound and strengthened radial construction give superior grip, straight-line performance, and high-speed stability as you blast down the track. The Proxes TQ is also designed to be quiet on the drive home.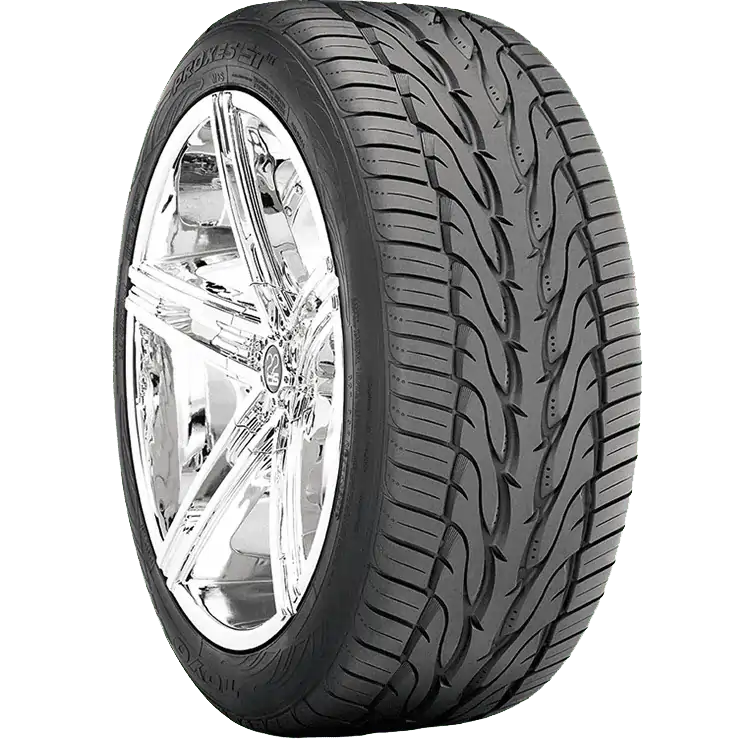 Toyo Proxes ST II
The Proxes ST II delivers the perfect balance of style and performance for sport trucks, SUVs, and CUVs. Superb handling, confident all-season performance, consistent wear and a smooth, quiet ride are wrapped up inside an attractive tread design.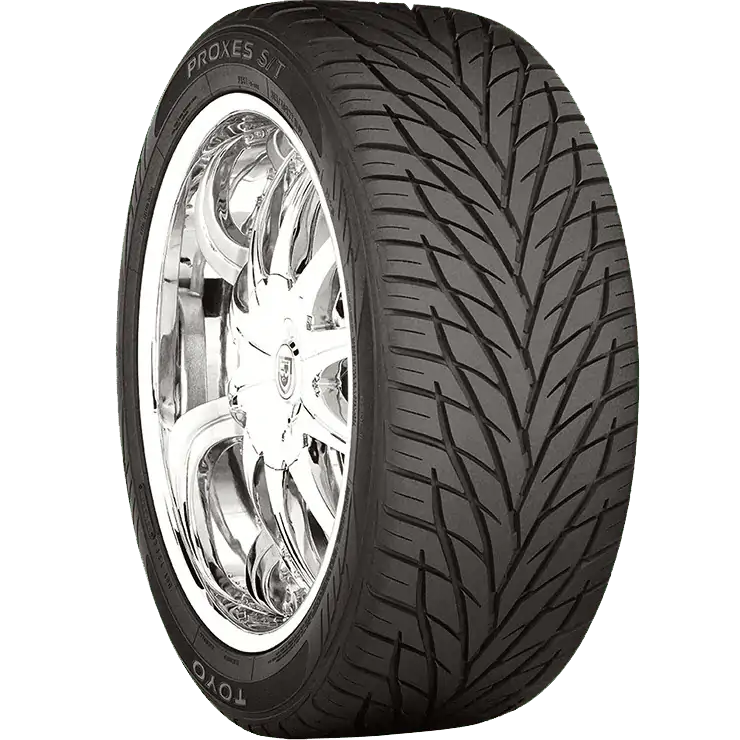 Toyo Proxes ST
This low-profile, high-performance tire offers great value in a wide range of weather and road conditions. The Proxes S/T gives sport trucks, SUVs, and CUVs stability and all-season handling plus high performance, long tread life, and a smooth ride.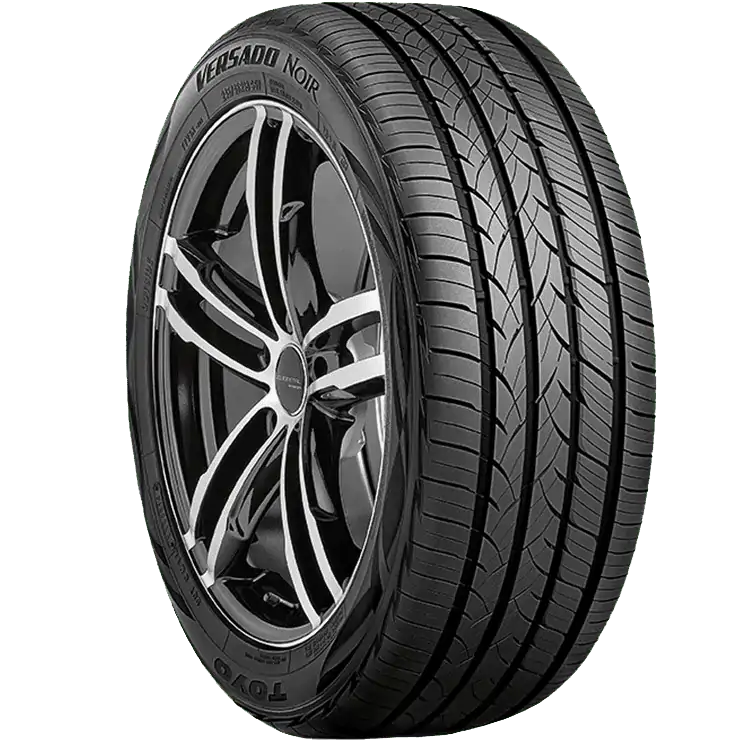 Toyo Versado Noir
The Versado Noir is our new premium, all-season touring tire for sedans and coupes. It offers over 30% more tread life than a leading competitor* plus improved fuel efficiency and a quiet, comfortable ride throughout the life of the tire.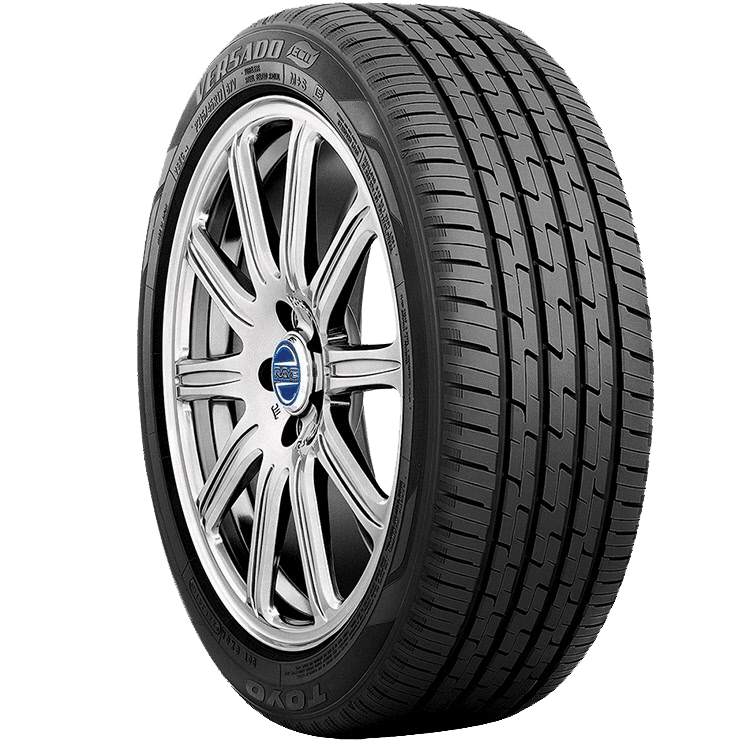 Toyo Versado Eco
Created to improve fuel efficiency for hybrid, electric, and other environmentally friendly vehicles while maintaining a smooth, quiet ride. The Versado Eco also uses naturally derived tread compound materials and recycled polyester to help make daily driving easier on the environment.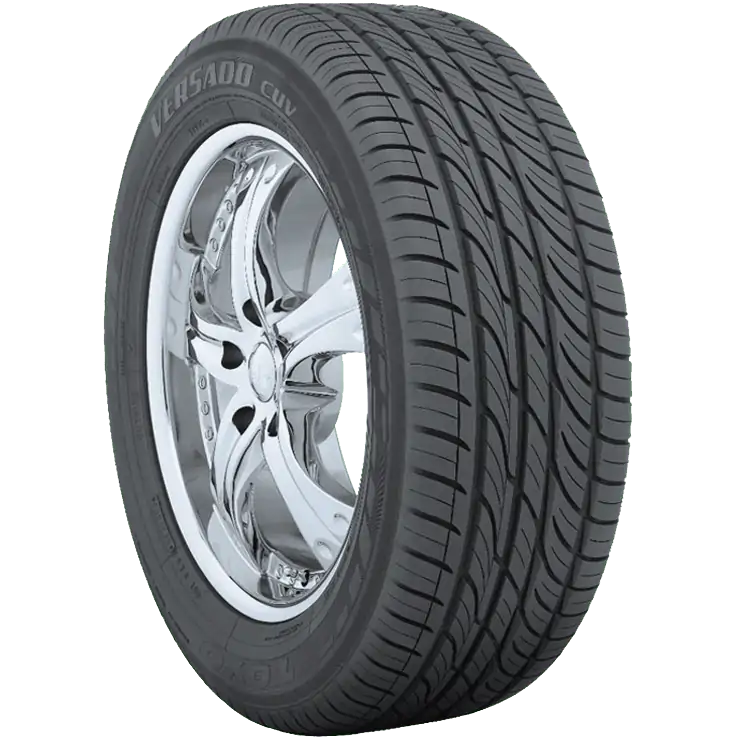 Toyo Versado CUV
The Versado CUV is designed for a smooth, quiet, luxurious ride with the enhanced handling and stability required of crossover vehicles. This stylish tire is also more fuel-efficient, thanks to a low rolling-resistance tread compound.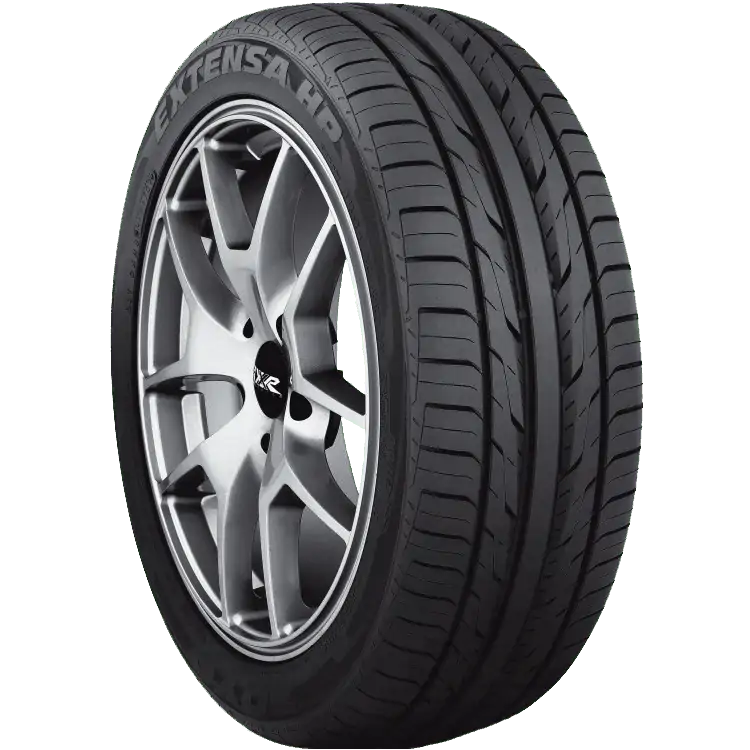 Toyo Extensa HP
This high performance all-season tire offers the quality and styling you expect from Toyo Tires at an unexpected price. Designed with value in mind, the Extensa HP delivers all-season handling, increased mileage and a comfortable ride.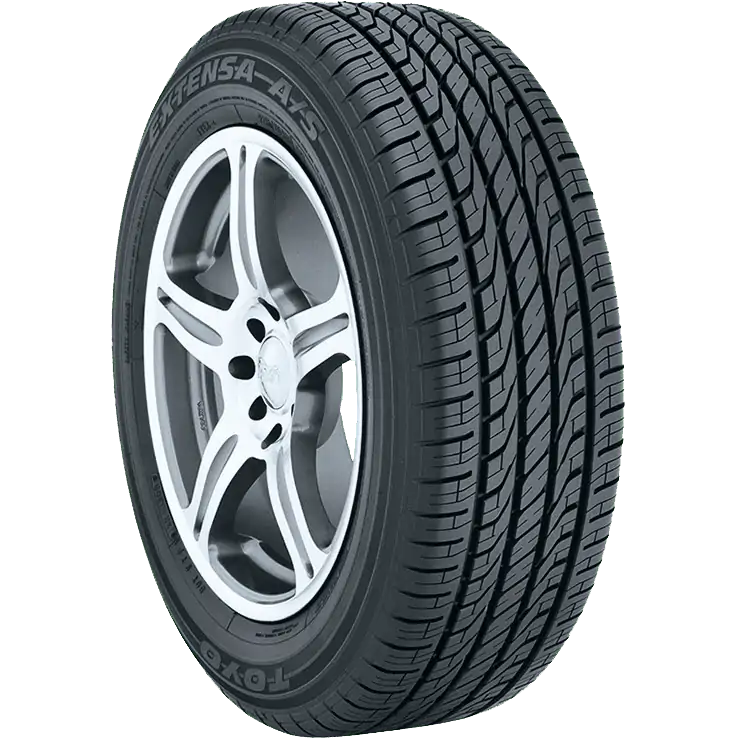 Toyo Extensa A/S
The Extensa A/S provides all-season performance in dry, wet, or snowy conditions for a wide range of passenger cars and minivans. A comfortable ride and extended tread life add to the value of this Toyo tire.