When it comes to piling the kids in the car, seatbelts and safe car seats are always a priority. But there are several other safety measures you should take. We know you'll do anything for your family, so you may want to consider annual tire checks to avoid any dangerous situations while on the road.
If you've had the same tires for over six years or suspect that your tires are misaligned or unbalanced, it is time to get your tires replaced. The team at your local Big Chief Tire will put you and your family's safety first, with brand new tires that won't break the bank.
Learn more about the process of buying new tires.
When To Replace Your Tires
There are several signs to look for that will indicate you need new tires. Two of the most important factors to consider are tire aging and tire wear.
Tire Aging
Instead of wondering "how do I know if my tires need to be replaced," ask yourself "how long have I had these tires, and when is the right time to change them?"
Every tire includes a marking for when it was made. You just have to know where to look. The four-digit number located on the inner circle of the tire and to the right of the model number indicates the week and year this tire was made.
The last thing you want is to put your family in a dangerous situation on the side of a busy highway. Avoid any issues by keeping track of your tire's age.
Tire Wear
Tire treads should show wear evenly, not only on the inside or outside of the tire. But unusual wear like this may indicate alignment or tire pressure problems. Specific indications of tire wear may look like bubbles or bulges, sidewall cuts or cracks, or damaged valve caps.
If these issues go unnoticed and unresolved, your tires and the overall safety of your vehicle can be compromised. For this reason, it's crucial that you take care of your tires and bring your car in for a tire replacement as soon as you notice this wear and tear.
Still unsure how to spot faulty tires? We've made it simple. Take our 5-question quiz to determine if you need new tires.
How Do You Know You Need New Tires?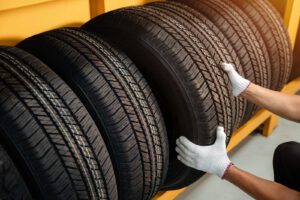 How To Choose Replacement Tires
Well done! You've decided that it's time for new tires. Now what? Before you make the investment, maybe it's time to consider your options.
There are many brands and styles of tires on the market. Research what's right for you. Factors to consider may include climate, highway travel frequency, location, and more.
For example, tires in Florida won't necessarily need the same tread designs and compounds as tires in Colorado would. Consider the conditions you'll be driving in before you pick your new tire set.
Big Chief Tire has the knowledge and expertise to guide you to the right tires for the Florida weather.
How to Get the Best Deal on New Tires
New tires are an important investment, not only in the overall performance of your vehicle but also in keeping your family safe. When making this purchase, you want to work with a business you can trust to make the best decision. That's why we recommend choosing a tire shop in Jacksonville, FL that's local to the area, rather than working with a big-box company.
Customers from across Jacksonville have trusted Big Chief Tire for the last four generations. We know your family costs more than tires ever will, but we understand how much of an investment this is. We are always willing to work with you to find a tire at a price that suits your budget.
Don't put off tire replacements because it seems like a hassle or too much money. The team at Big Chief Tire will take care of you and your vehicle.
When it comes to purchasing your new tires, it comes down to keeping all of your passengers safe. Stay diligent by monitoring your tires and any malfunctions you notice. When the time comes for a tire replacement, don't wait to make the purchase. Prevent accidents, keep your family safe and get a great deal on new tires. Schedule an appointment with Big Chief Tire in Jacksonville, FL.